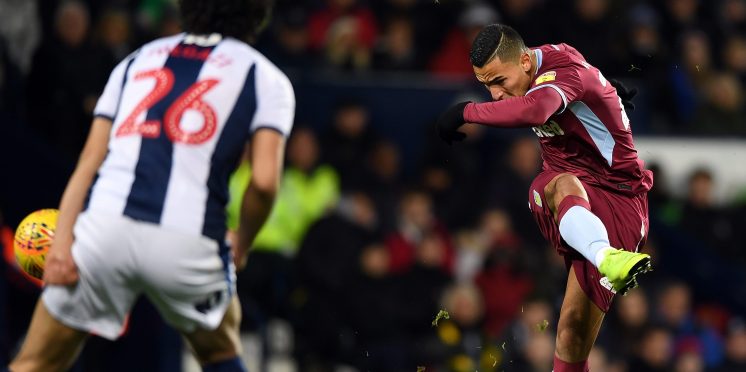 These Aston Villa fans react to key moment from previous derby clash
Even though Aston Villa's main local derby is against Birmingham City, it's fair to say that games against West Brom are also pretty feisty.
The two clubs have had a long-running rivalry and there have been some memorable clashes between them over the years.
Both sides came up against each other four times last season, with Villa coming out on top in a penalty shootout to win the play-off semi-final.
With both sides competing for promotion, the two league games in the Championship were also interesting affairs and the 2-2 draw at The Hawthorns will be remembered for a host of reasons.
Most notably, Jay Rodriguez scored a late equaliser with his hand but prior to that moment, it had been Anwar El Ghazi's night.
The wide man scored two goals against Albion, the second coming in front of a packed away end, resulting in wild celebrations – as one Villa fan showed on Twitter.
Twitter: Absolute limbs when this went in let me tell you #AVFC https://t.co/V60lc0hk63 (@ElliotAVFC)
Here we look at some of the reaction to the clip…
Twitter: @ElliotAVFC Some shift in that away end 🤩 (@MisterGuilbert)
Twitter: @BWC_19 @ElliotAVFC Knees took an absolute battering 😍 (@hsxmpsxn)
Twitter: @ElliotAVFC Our Ronaldo (@janluckar)
Twitter: @ElliotAVFC Won wedge that night me (@CraigWi66198554)
Twitter: @ElliotAVFC @PTRCK2100 The Goal.
The Commentary.
THE LIMBS AGHHHH TAKE ME BACK TO LAST SEASON 😍 (@mastermoraess)
Twitter: @JonAbbott94 @ElliotAVFC Sensational strike (@HarryJBiddle)
Twitter: @ElliotAVFC Yes there was (@Scotty_Villa)
---