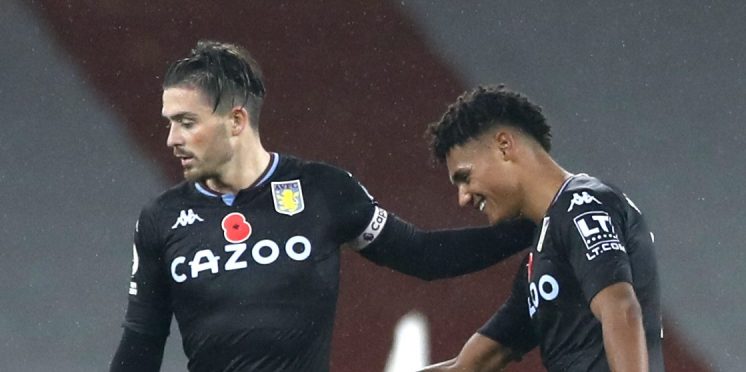 Gabby Agbonlahor discusses Jack Grealish's growing 'ego' and 'talent'
Former Aston Villa striker Gabby Agbonlahor has said Jack Grealish possesses the 'ego' to match his 'amazing' talent after impressing for England.
The attacking midfielder and Villa club captain produced a superb performance for England on what was his first competitive start for his country against Belgium on Sunday night.
Despite his team's 2-0 defeat in the Nations League, Grealish was handed the man of the match award for his performance, earning himself glowing praise from pundits and Three Lions manager Gareth Southgate.
The 25-year-old's performances for his country have followed an impressive start to the season with Villa, seeing himself net four goals in the Premier League and supply six assists.
Speaking exclusively to Football Insider, Agbonlahor opted to discuss Grealish in depth before claiming he has the 'ego' to match his growing talent, saying:
The first time he came and trained with us at Villa, he had the socks down, he might have been 17, 18, and we were quite old school mentality players, so when he walked past us on the training ground, I was like, 'who this guy with the socks down'?

You know, even the managers at that time were like, 'who's this coming from the youth team'?

You know, normally from the youth team, normally from the youth team you'd have your socks up, your pads on but that just sums him up as he is.

He's a character, he's got the ego that goes with the way he plays, you know. To do that from the age that he came into the first team, we just knew from that age that he was gonna be a star.

He knew how good he was from that age and the more I've seen him, the more training I've seen him in, the more in games from a young age, then I could just tell that he was going to be a great player.

Just for me, what he's done in the last two or three seasons, he's just picked it up to a different notch of like learning more.

It was similar to me and my time at Villa, like you just learn more when you're playing in the big league, you just learn more every game and get better and better, you read how defenders play, you just get better and better.

That's with him, he's started filling out more , the way he gets the ball now, he can score with both feet, he can assist and that's what people are trying to hold against him in his early years.

It's like he's an amazing player, lovely to watch but it's about the stats – now he's doing both, he's showing what he can do, he's aggressive, he can tackle, he's a leader and he's scoring great goals and assisting.
One person who did not view Grealish's performance for England as a success was former England defender Danny Mills, who questioned his efforts against Belgium.
Read Aston Villa Verdict
At the moment, Grealish is one of English football's most prized assets – indeed, he had an £80m price tag put on his head over the summer by Villa, such was their desire to ward off prospective suitors.
He appears to have carried over his sensational club form onto the international stage and it seems that the world is his oyster right now.
Agbonlahor's comments may initially ring alarm bells given his use of the word 'ego' but, with Grealish, it seems that any such arrogance is being channeled into supreme confidence fuelling effective performances.
---