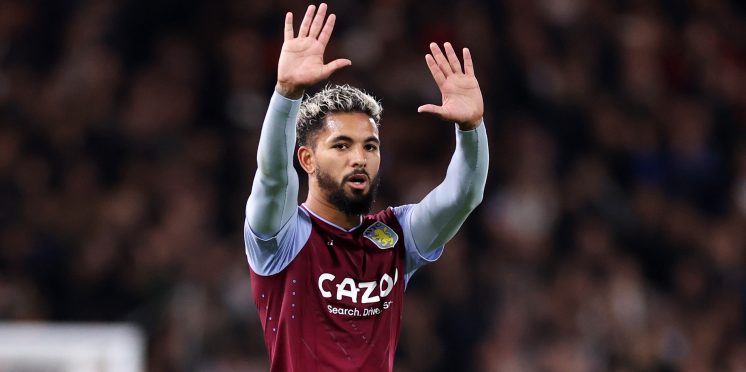 Gabby Agbonlahor claims Aston Villa could cash in on Douglas Luiz
Aston Villa reportedly turned down three bids from Arsenal for Douglas Luiz towards the end of the summer transfer window.
Earlier this month, the Midlands club revealed that the midfielder had put pen to paper on a new contract at the club, duly getting rid of any risk they had of losing him on a free transfer at the end of the current season, when his previous deal was set to expire.
Despite this new deal presumably putting to bed any concerns there may have been over the player's future at Villa Park, it appears as though someone that knows the club quite well has claimed that the Brazilian could yet be sold in 2023.
Speaking to Football Insider, former Villa striker Gabby Agbonlahor weighed in on the matter of Luiz's future.
Agbonlahor not ruling out Luiz sale
The talkSPORT pundit said: "Let's be honest, Douglas Luiz wanted to leave Aston Villa because Arsenal bid and the club didn't accept it."
"Douglas Luiz was in a great position as his contract was up in the summer. Sometimes, as a club, you have no choice. Even if you didn't want to give the player a new contract you are in the position where you have to give him a new contract or he leaves on a free.
"Douglas Luiz would have been paid very, very good wages to commit to sign it.
"He's done OK but I don't think, to be honest, he signed the contract because he's totally committed to Aston Villa. I think he signed the contract because he got the wages he wanted and he worked it well for himself. If Villa had accepted the bid from Arsenal, he would have left without looking back.
"It suits him and it suits Villa. They've got him tied down so they can't lose him on the cheap. It might come to the summer when they decide to sell him and Arsenal have to pay more.
"Sometimes contracts can hide what is really going on. In the summer, Luiz might go but instead of £20million it might be £50million or £60million.
"The position he's in, he's laughing because he's got his wages up high. I think it suits both the club and the player, to be honest."
Will he still go?
While clearly valuing him high enough to not only reject three summer bids from Arsenal but to also offer him a new deal, it may come down to whether or not Villa think it would be better to potentially cash in on the midfielder in the summer should a significant offer come in for him, like Agbonlahor mentioned.
As the 36-year-old also hinted, Luiz may have had a personal rather than collective motivation to agree his recent new contract, considering that he reportedly wanted a move to Arsenal, and the foolish manner of his red card at Fulham on Thursday night will have done little to endear him to an already beleaguered Villa fan base.
---